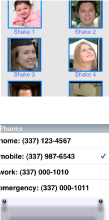 Set up to 6 quick dial, no vision needed contacts!


You can create up to 6 quick dial contacts. Simply open the application for the intial app setup, choose your most used contacts from your contact list, and you are all set! You can even choose which contact gets a certain number of shakes to dial!
read more...

No Voice Teaching!!!

Many of the dialers that do not require seeing the phone use voice recognition software. Unfortunately, voice recognition is unreliable and can be very frustrating. With "A Special Phone" you are using specific movements to dial your contacts prescisely.more...



Low Learning Curve!

This app is so simple that the user can be as young as 2 years old! There is no need to know numbers, memorize phone numbers, or know the layout of a phone keypad more...
Multiple numbers for one contact NOT A PROBLEM!
lSimple solutions are king with this application, and the same goes for the question of mulitple phone numbers per contact. There will be no question who you are dialing and which number. You can choose which numbers you add to your top 6.
read more...